Mental fitness is essential for thriving in the complex and challenging world in which we live. Whatever your situation… whether you are:
experiencing overwhelming stress,
just not able to achieve the work-life balance you desire,
busy looking after others, but not yourself,
managing multiple health conditions while trying to retain a "normal life",
OR
adjusting to some big changes that life has brought your way…
you may find the practical guidance that Louise and I at Thrive provide invaluable. We don't just talk about things, we get you doing things that are relevant to you and that are going to help your mental wellbeing. Because doing is good for you!
Scroll down to see some of the things we can support you with to improve your mental fitness so you can Thrive…whatever your life challenges.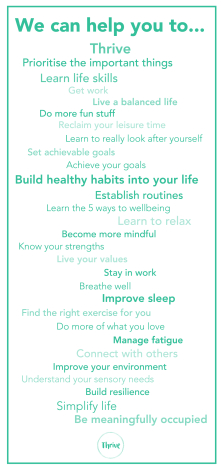 To talk about how we can help you to improve your mental fitness, contact us using the form below, give us a call CATHERINE: +64 27 221 9071 | LOUISE: +64 21 0231 3482 or visit our website
[contact-form-7 404 "Not Found"]